About ClassiPress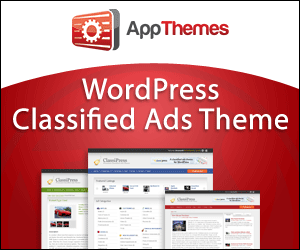 ClassiPress is a theme created by
AppThemes
.   It is a premium WordPress theme designed to help you create a classified ads website like Kijiji, Craigslist, OLX and there are others in the market.   WordPress itself is a blogging platform and themes are skins that you put on top of the platform to help transform the functionality and site into something totally different.  In this case, ClassiPress theme totally transforms your WordPress blogging site into a fully functional classified ads website.   All the functionality is built into the theme therefore after you install the theme on to your platform, there is no programming required to create the classified ads site.  
Everyone installs the same ClassiPress theme, it's a vanilla theme which you have to customize.  You can customize your site to your business needs.  You can click here to learn more about AppThemes.
ClassiPress has come a long way and now boasts tons of features essential for a successful classified ads site like Kijiji or Craigslist.   There are many ways to look at the features of the site, below I will describe the features based front end usability, classified ads management, monetizing, site management, and other technical features.  Click
here
to see a demo of ClassiPress.
As a consumer of your classified ads website, assuming you used ClassiPress to create it, usability is great.  The functionality is user friendly and understandable.  Below are some features that will make your site very easy to use:
"Post an Ad" button on the front page
Search box to narrow down ads you want to see
Instantly view featured ads in a scrolling bar
See all ad categories at a glance
See new listings, popular listings
See how many views an ad has received
See how much the ad is asking for ($)
As a seller and ad creator on your classified ads website, ease of ad management will determine how often I will post an ad and maintain it.   ClassiPress does an excellent job of allowing users to manage their own ads.  Click
here
 and go to "My Dashboard" on the upper left corner to see a demo of the admin section of ClassiPress.  Features for ad management include:
A Dashboard is available for you to see all ads you posted
There is an icon to easily mark your ad as "Sold"
Icon to delete, edit, or pause an ad
In your Dashboard, you can see when you made your ad live and how many views it's had
When you edit an ad, you can change all details of it as if you were c

reating it new.

When creating a new ad, you can add pictures, description, price, currency, address
In the Dashboard, you can instantly see which category your ad was placed in
You can create your own profile, edit your information, change your password, change your display name, add your Facebook, Twitter information
ClassiPress allows site owners to monetize their classified ads website.  There are many ways that Kijiji monetizes their site that you can also use on your site.  Monetizing opportunities include:
Pricing models - ClassiPress offers different pricing models.  Kijiji and Craigslist, I believe charge a fixed dollar amount to post in certain categories.  You can do the same with ClassiPress.  ClassiPress offers three different pricing models - fixed, percentage of, by category or mix and match free and paid ads.  
Featured Ads - If you look at Kijiji, you will always notice featured ads are always at the top of the page when searching their ads.  You can do the same.  You can charge an extra free to allow users to post their ads at the top of the screen.  This is a rotating featured ad which has high visibility.
Customized Monetizing - Also included is the Ad package module where you can create your own custom monetizing terms.
Membership - You can create a membership pack for users to post to your classified ads site. You can customize your membership to whatever name and dollar amount your wish.  

 For example, allowing a user to join a Standard 30 day membership to post as many ads as they want to a paid category.    So a Standard Membership would cost $100 for unlimited posts for 30 days.  You can create as many membership packs as you want.

I just realized that one thing that Kijiji has is that certain fields like adding a website URL is additional cost.  I don't see that feature anywhere in ClassiPress.
Using WordPress provides the easiest site management available.  There is no coding involved when you customize or manage your Kijiji website.  You're probably thinking, you have to go through a million lines of php or html coding just to change your site colour or name of field on your site, but in fact, it will just take a few clicks of your mouse.  Everything in WordPress is intuitive and straightforward.  Everything is in English and not coding mumble jumble that only programmers can understand.  And where there is complicated coding mumble jumble, ClassiPress has support a support forum and documentation to explain everything to you.   There is an Administrator dashboard that only you can access for you to manage and customize your site.  Some important dashboard features specific to ClassiPress include:
ClassiPress - You can easily change the look and feel of your classified ads site like Kijiji.  Features include and not limited to the number of categories to show, how many days each listing is posted, ad moderation - if you want to approve each ad that is submitted, max number of images allowed per ad, explicitly indicate who is allowed backend access to your Kijiji site, banner management, email management, pricing information, system information and add ons.
Payments - Under Payments, you can see all orders that went through your site.  For example, if someone paid extra to have their ad as a featured ad, you will see when the order was made, who requested a featured ad, how much was paid, how many items were purchased and how it was paid.  Here you can also create your Ad Packs and Membership Packs for monetizing your site.
Ads - You can create ads, custom fields, forms for advanced searches, and create your classified ads categories.
ClassiPress is a very modern theme to create your Kijiji website.  There are many technical site features to help you create a classified ads site.  Features include:
Social network login - Allow users to login to create posts using their Facebook, Twitter, Google or Yahoo accounts.  This allows new users to easily register a new account or existing members to login to your site.
Advanced Search - Auto-complete and suggest search will automatically complete a search request.  It will also suggest related search terms are displayed
Facebook Widget - Allow your visitors to "Like" your classified ads site and post proudly on their Facebook page.  
Responsive Design - Your Kijiji classified ads site will be viewable on any device.  Whether it's a computer, laptop, tablet, smartphone or a mini tablet, the content of your classified ads site will wrap to the space viewable to your audience.  Usually when content is viewed on a Smartphone, the font size will shrink down to unreadable.  Users will have to zoom to make the content readable.  With a responsive design, font size remains the same and content is wrapped.  You can check out the demo and resize the window to see how the responsive design works.  
I've listed some of the features available to you to create a site like Kijiji but pictures are worth a thousand words.   Below are pictures of the Front page, Manage Ads page and WordPress Admin page.    As I'm not able to capture the whole page, it's best to try out the demo to see for yourself what the page actually looks like.  
Here is a snippit of what the classified ads theme - ClassiPress looks like to help you make a website like Kijiji.
Click
here
for a demo of the front page.
Here's a snippit of what the page looks like to manage ads.  
Click 
here
 for a demo of the manage ads page.  Click on 'My Dashboard'.
Here's the backend of your site that only Administrators can access.  Here is where you can customize your Kijiji website.
Click 
here
 for a demo of the manage ads page.  Click on 'My Dashboard', then click on 'WordPress Admin'.
To check out the ClassiPress Wordpress admin, there are a few steps involved to see it in action:
Click 

here

 to demo the site

Click on 'My Dashboard' on the top right

Under Dashboard, click on 'WordPress Admin'